It takes a village to raid one!  So, with a battle looming, I find myself in need of a Carib village. And that village requires huts.  So here's my take on the Carib hut and how to create one.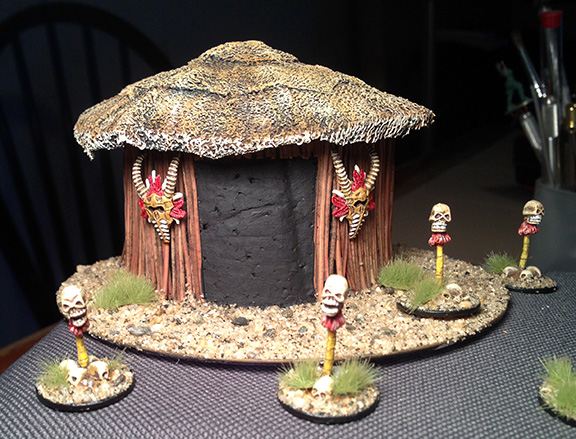 In this case, it's the hut of the village witch doctor.
It started out as pretty much all throw away items. A circle of foam glued to an old CD and painted black. To this, I glued pine needles that I collected from the yard and dried.
After the glue had dried, I trimmed the tops of the needles flush with the top of the foam.
Here is the lower hut with its needles trimmed. The rubber bands held the needles in place while they dried.
The roof is made from an frozen waffle box cut and shaped into a cone.  The thatch was made with an old towel cut in wedges and glued in rings with the "grain" of the towel running toward the edge of roof.
Once all the thatch has been glued in place, I brushed the grain downward with diluted PVA glue, giving it two coats.  Painting consisted of four coats of craft paint. When dried it gets two more coats of matte spray.
The base got a sprinking of PVA and sand. And for the final touches, a couple of Reaper Miniatures masks and some grass tufts.
The other huts of the village are the same contruction but with fewer details.